Cablemod Classic Modmesh C-series Rmi & Rmx Power Cable Kit - Black & Red, Black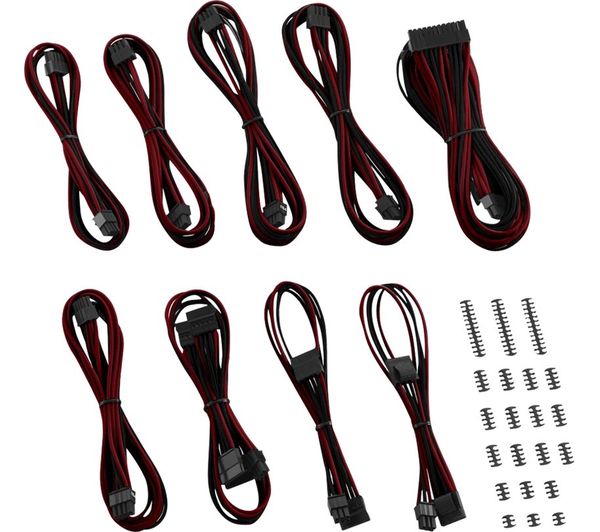 Price: £67.99
Delivery : Free Delivery


Check Stock

Enlarge Image
Manufacturer : CABLEMOD
Product Code : 10198731
Currys Discount Code Offers

Save £75 off marked price of selected TV's
Expires: 01/06/2020 23:59
Save £300 off marked price of selected TV's
Expires: 01/06/2020 23:59
Save £200 off marked price of selected TV's
Expires: 01/06/2020 23:59
Save £100 off marked price of selected TV's
Expires: 01/06/2020 23:59
Save £50 off marked price of selected TV's
Expires: 01/06/2020 23:59
Save £30 off marked price of selected TV's
Expires: 01/06/2020 23:59
Save £20 off marked price of selected TV's
Expires: 01/06/2020 23:59
Save £10 off marked price of selected TV's
Expires: 01/06/2020 23:59
Save £30 on Office 365 when bought with Selected Lenovo Laptops
Expires: 04/06/2020 23:59
10% of Rangemaster cookers over £1000
Expires: 01/06/2020 23:59
£30 Off Core i3 Laptops Over & including £399
Expires: 02/06/2020 23:59
Save £200 on selected Canon Cameras
Expires: 30/06/2020 23:59
Save £50 on selected Canon Cameras
Expires: 30/06/2020 23:59
Save 10% off marked price on slected Canon Lenses
Expires: 30/06/2020 23:59
Buy 2 or more fans and save 10% (EXCLUDING DYSON)
Expires: 09/06/2020 23:59
Free Next Day Delivery on Components
Expires: 02/06/2020 23:59
£50 off when you spend over £600 on 2 or more Large Kitchen Appliances
Expires: 02/06/2020 23:59
£100 off when you spend over £1000 on 2 or more Large Kitchen Appliances
Expires: 02/06/2020 23:59
Free Next Day Delivery on all Gaming PC Laptop/Desktop and Monitors
Expires: 04/06/2020 23:59
5% off all Large Kitchen Appliances over £399 AFFILIATE ONLY
Expires: 05/05/2021 23:59
25% off when you buy 5 CANON Black Office paper
Expires: 30/06/2020 23:59
Save £60 on McAfee Livesafe when bought with a Laptop, desktop, macbook
Expires: 01/01/2021 23:59
Save £20 on MS office when bought with a Laptop, desktop, macbook
Expires: 01/01/2021 23:59
20% off Other INK & Toner online
Expires: 17/04/2021 23:59
20% off Epson INK & Toner online
Expires: 17/04/2021 23:59
20% off Canon INK & Toner online
Expires: 17/04/2021 23:59
20% off HP INK & Toner online
Expires: 17/04/2021 23:59
25% off when you buy 5 premium black paper
Expires: 30/06/2020 23:59
25% off when you buy 5 superior red paper
Expires: 30/06/2020 23:59
25% off Laptop bags when bought with Laptop
Expires: 02/03/2021 23:59
AFFILIATE EXCLUSIVE: £10 off marked price on all LKA over £249
Expires: 30/06/2020 23:59
Get the Norton 360 Platinum 2019 1 year for only £20 when bought with a laptop
Expires: 05/09/2020 23:59
Save £20 on Microsoft Office 365 Home 1 year when bought with a laptop
Expires: 05/09/2020 23:59
Features
The CableMod Classic ModMesh C-Series RMi & RMx Cable Kit contains an assortment of cables to connect your power supply and motherboard.These durable cables are flexible for easy cable management. The kit also includes a set of cable combs.

Prices are provided by our merchant partners. We assume no responsibility for accuracy of price information provided by our merchant partners.

Product specifications are obtained from third parties, and while we make every effort to assure the accuracy of product information, we do not assume any liability for inaccuracies. Store ratings and product reviews are written and submitted by our online shoppers to assist you as you shop. These opinions do not reflect our opinions. We take no responsibility for the content of ratings and reviews submitted by users.