Cuisinart Ice100bcu Ice Cream Maker - Silver
5 years guarantee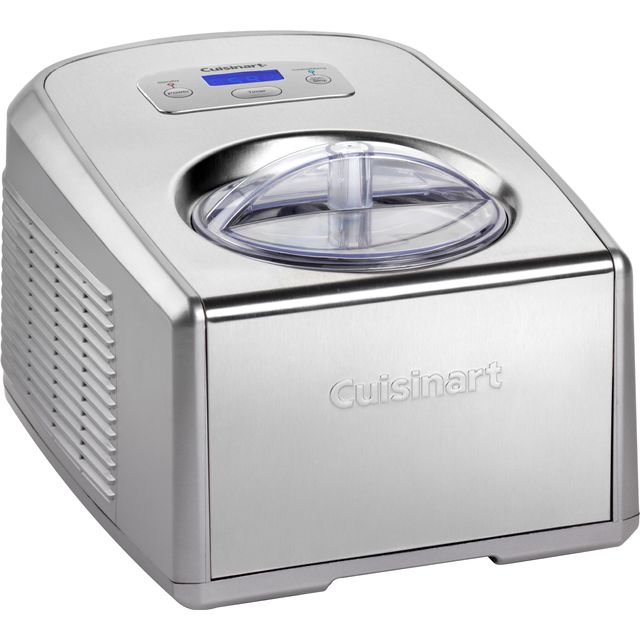 Price: £199.00
Delivery : Free Delivery


Compare Prices

Read 5 Reviews

Check Stock

Enlarge Image
Manufacturer : CUISINART
Product Code : 3030058501003
EAN : 3030058501003
Features
Cuisinart ICE100BCU Ice Cream Maker in Silver
Sleek and stylish, the Gelato and Ice Cream Professional is extremely easy to use. A professional compressor system means there is no need to pre freeze the bowl, allowing you to create 1.5L of delicious fresh ice cream, rich gelato, frozen yoghurt or refreshing sorbet in just 40 minutes. 2 professional, robust gelato and ice-cream paddles are specially designed to give the perfect consistency.
Simply select your recipe, add your ingredients, set the digital timer display and press start. When the cycle is complete, the Gelato & Ice Cream Professional will switch itself off and keep your frozen dessert cool for up to 10 minutes. All the flavours of your fresh ingredients are retained - creating puddings with a real difference, as well as saving valuable preparation time. Removable paddles, lid and bowl make cleaning extremely easy.
Other Similar Ice Cream Makers
Customer Reviews
Having used an old 'bowl-in-the-fridge' style ice-cream maker quite successfully for years I was wary about spending a large amount of money on the Cuisinart. However, I'm now converted and more importantly I make more fabulous ice-cream and sorbets! The machine is fairly quiet, very quick (especially if you start with very cold ingredients) and great fun when my 4 year old grand-daughter 'helps'. I tend to make more sorbets than ice-cream because it's what's preferred by my husband and I but both have been very easy and successful. This week I made rum and raisin ice-cream plus a berry / fruit sorbet from frozen berries I stored over the summer and both were brilliant. I've also tried gin and tonic sorbet, ginger ice-cream and good old vanilla which have all been enthusiastically devoured. Bear in mind that the versions you make in this and any home machine will be softer than commercial versions but if you're serving immediately it's not a problem. It will also stay cold in the machine for half an hour or so or you can add a few minutes to the timer to 'firm-up'. It's important not to overfill the bowl as the volume of mixture increases as air is added but the one time I did, I just removed some and did 2 batches. I usually make a batch the day before I need it and pop it into an ice-cream tub and it's perfect when served. Overall - brilliant, easy and fun.
Date reviewed: //2014-12-16
I have made 7 different flavours of ice cream and the machine works very well. You could eat the results straight from the machine but they are so much better if put into the freezer. The machine does take up a lot of space and i'm having to think of somewhere to keep it other than on the kitchen worktop
Date reviewed: //2014-06-03
Really useful and works very well. Nice smooth ice cream and no problems so far! The customer service from John Lewis was second to none.
Date reviewed: //2014-05-20
Had the previous model which was very noisy. I found this model quiet enough to have a conversation. I would certainly recommend it if you are looking to buy an ice cream maker.
Date reviewed: //2014-04-08
I have used ice cream makers over many years, both the chill bowl in freezer type and most recently a Gaggia with inbuilt refrigeration which itself had been chosen in preference to the Magimix. Selecting a replacement for the much loved Gaggia was hard. This was chosen partly on price, it is cheaper than the Sage, and partly because we have other good Cuisinart appliances. I paid attention to capacity. However do not be misled by the publicity and American measurements. This ice cream maker will freeze a maximum of 1 litre unfrozen mixture. The ice cream paddle incorporates more air than our previous Gaggia machine, which makes for better ice cream, but increases the final volume. In the UK double cream is sold in cartons of 300 or 600 ml. A batch of ice cream using 600 ml cream , 600 ml milk and 6 egg yolks must be frozen in two batches, as I did with the previous smaller capacity machine. The Instruction manual is brief - We could have done with guidance on using the machine for two successive batches. On first use there was considerable clonking and squeaking from this machine. We reckoned that the squeaking was from plastic rubbing on plastic and by the second batch things were quieter. Today is its third use and tho the machine is noisy it is working smoothly. I give this machine a high rating. It makes better, more airated ice cream than I have managed at home previously. There is less build up of solid frozen ice cream on the surface of the bowl itself. It is easier to set up and less messy to empty the finished ice cream than our previous. We are happy with it. However, we feel that all manufacturers should look at sustainability and repairs. Our Gaggia with compressor and motor still working was retired after the failure of plastic switches. Cuisinart give a 5 year guarantee on this machine but it is unclear whether there is any UK facility for repairs.
Date reviewed: //2014-02-16
Prices are provided by our merchant partners. We assume no responsibility for accuracy of price information provided by our merchant partners.
Product specifications are obtained from third parties, and while we make every effort to assure the accuracy of product information, we do not assume any liability for inaccuracies. Store ratings and product reviews are written and submitted by our online shoppers to assist you as you shop. These opinions do not reflect our opinions. We take no responsibility for the content of ratings and reviews submitted by users.